Rain 2X [Final 27.12.2012]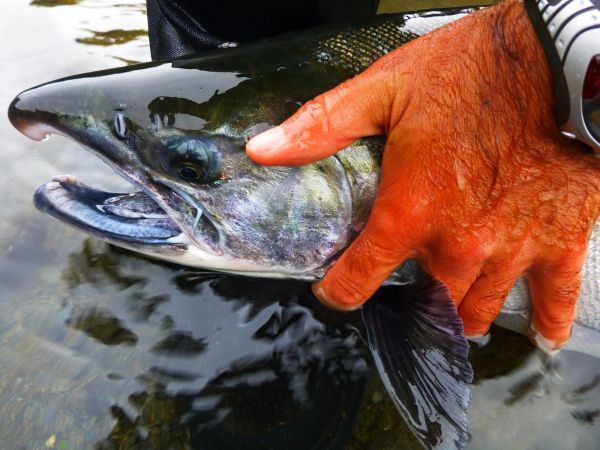 Finally, it was my turn to be lavishly treated with Alaska's famous liquid sunshine. We've often travelled in Alaska, and luck had often been on our side. But not this time. The first week kayaking in Tutka Bay ran as planned. But then it started to rain, sometimes vertically as rain is supposed to fall, but also horizontally. In the beginning I was able to fish and camp in agreeable conditions, but then things started to get worse and water levels rose. And I became sure  that it doesn't always proceed as intended to.
Travel Log
Due to wind conditions our flight takes us way up north, close to the pole, and, except for a short stretch above northern Greenland, the view is almost always blocked by a dense cloud cover. Plane change in Anchorage, then continue to Homer where I get food supplies for one week and set the departure time with Allison for my kayak trip. Even for a runner like me and despite Homer's small size, I need a car to run all my errands.  Since I'll set up camp at two different spots in Tutka Bay, I'd rather take a minimum of fishing gear. I therefore bring only a light fly rod and two spin rods, whereas one of the spin rods should be strong enough for a good-sized catch such as a pike. I intend to fish from the kayak – yep, «The Old Man and the Sea». But I'm probably wise as not to tell the fishermen in Homer, otherwise they might likely pity me for my quite basic fishing equipment.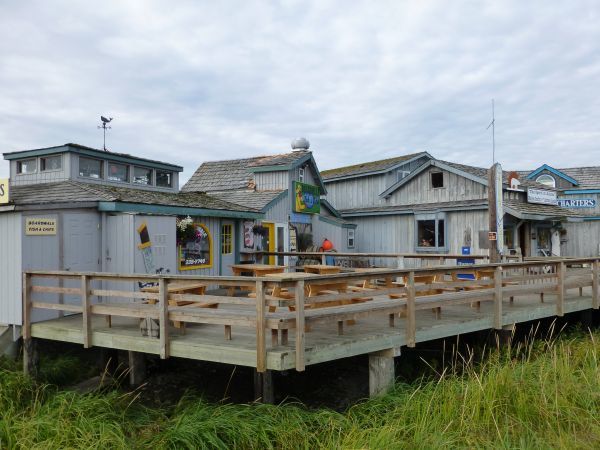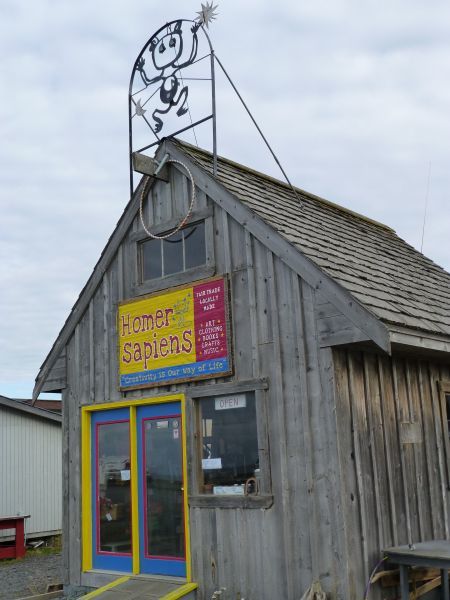 On my first evening in Alaska, I go for an extended stroll through Homer, which feels almost deserted at this time of the year. I nonetheless happen to find a good Italian restaurant. At noon of the following day I meet Alison at the marina. Five minutes later, my gear and a fine sea kayak are are stashed on her boat and we head for Tutka Bay. During the ride, we fix the pick up time and chat , but she doesn't even ask about my equipment or my kayaking and outdoor experience. This fact is mildly astonishing, but doesn't pose a problem to me and I'm just happy the way it is. While entering Tutka Bay, I spot the first seals, sea otters and bald eagles. Allison, accompanied by her daughter whom she homeschools, drops me in a small cove, and then I'm all on my own. As always, this is a most magic moment. The float plane or boat departs, it gets utterly quiet, the adventure may begin. I've waited for this moment for such a long time.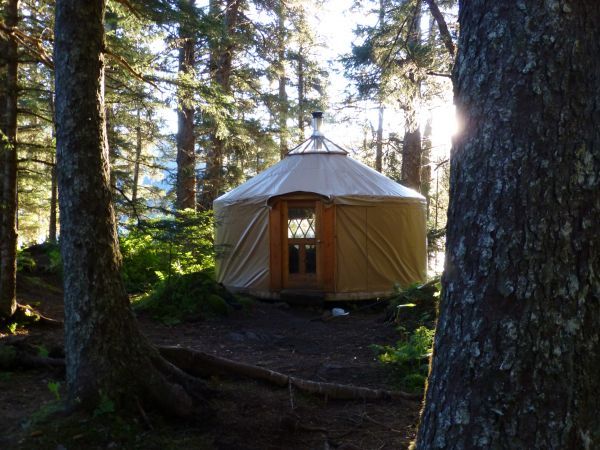 I leave all my gear on the beach and go looking for my accommodation. Two minutes later I've found the yurt in the forest on a small knoll. It features a stove and firewood, a table and sleeping pallets for four individuals. After a short time, I'm already in the kayak, and, out of respect to the sea, always hugging the shore. I know from experience it's not wise to underestimate the cold sea water as well as the wind and wave conditions and the tides. I enjoy the sunshine and start exploring the vicinity of the cove. In the evening, I install myself in my dwelling and cook dinner. After the long journey, I'm bone tired and sleep like a log. I spend the next few days in the kayak, gradually extending my forays. I become familiar and fall into the rhythm with the sea and the tides to the extent that I hardly need the tide charts any more. I tow spoons, squids etc. for some hours, but even when paddling only slowly I can't reach the depths where most fish are. I quit trying and cast spin lures from the kayak and let them sink to the ground. Close to the rocky shore, I immediately hook black rockfish, of which I keep two for dinner. Fried in the stillet, they taste heavenly. On the fourth day I catch a 23 inch baby lingcod. At this size they don't yet look as fierce and grim as when they're older;  I therefore put the youngster back so it may also grow into a fierce and grim lingcod elder.  Half an hour later I experience a strong bite on a rubber fish. It seems to be something quite big; wind and waves are increasing in strength and size, too. I let my self being towed across the bay until the fish finally starts tiring. While drilling it becomes evident that a pike rod is indeed intended for pikes and not for halibut! I have difficulties controlling kayak and fish and, luckily, it's not a giant, but it might nonetheless weigh about 50 lbs. Till I'm able to release the creature I'm splashed with sea water all over. It requires a firm seat in the kayak to master this kind of situation and I'm happy that at the end fish, gear, kayak and man are all back in their right place.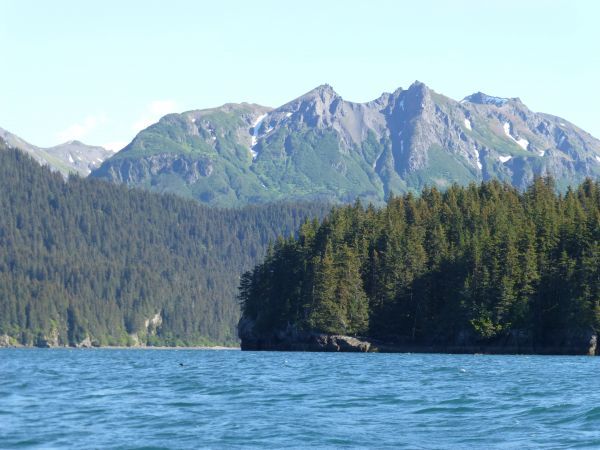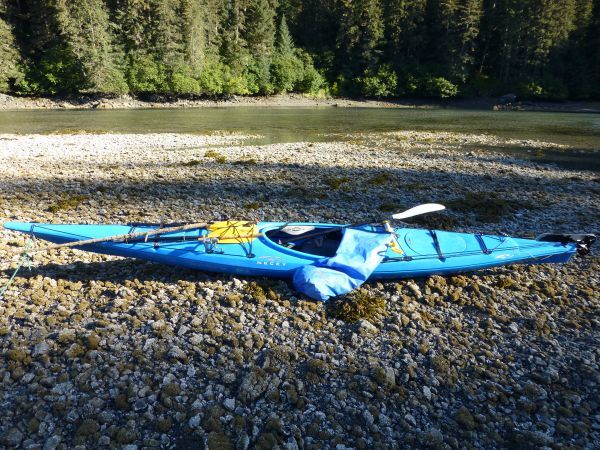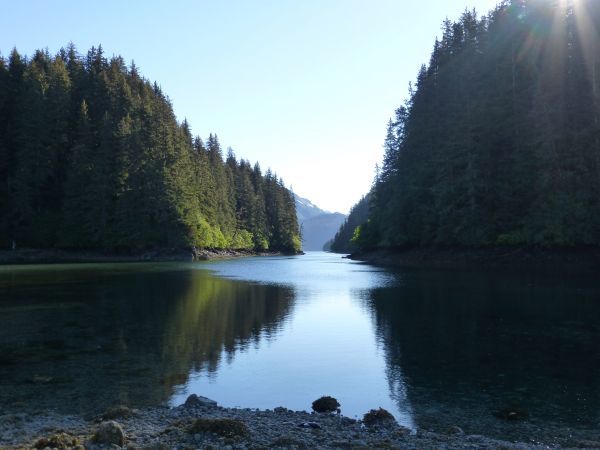 Tutka Bay lagoon is an intriguing place. At incoming tide, a small entrance provides easy access, whereas the same current will swiftly carry one's kayak in the opposite direction at outgoing tide. A crystal clear creek, where pink salmon are spawning, enters the lagoon. There are still a few sockeyes around, but the river must have been teeming with them just a week ago. I make a few tries filming the fish underwater, always checking the floodplain for bears which may show up all of a sudden in the tall grass. A lone grizzly makes a short appearance, but it will remain the only one. But bald eagles, river otter and shore birds are a common sight. While paddling I frequently encounter sea otters and seals, and once a humpback whale breaks the surface, but, regrettably, only to disappear quickly into the depths of the bay again.
The first underwater recordings, all of which I took in Tutka Bay. In September, the creek entering its lagoon flows crystal clear. There were still a few sockeyes, but I'd had to be there a few weeks earlier to film them. But pinks are interesting to watch, too. I'm not yet really satisfied with the film's quality since it deteriorates in the uploading process. Additionally, the movie can only be watched in HD quality on Vimeo .
After a few days I move into a State Park cabin, which turns out to be more practical than a yurt. It suits my purposes perfectly with its spacious front porch, the large table and the big windows. And the view is even more beautiful. Although I know where the cabin is supposed to be I spend quite some time looking for it because the access is not visible from the beach. I therefore search some coves before I finally discover the cabin where I first looked for but didn't discover it. My paddling trips are getting longer, but I'm always very carefully keeping the changes in wind, wave and water current conditions in mind; capsizing in these frigid waters isn't a good option.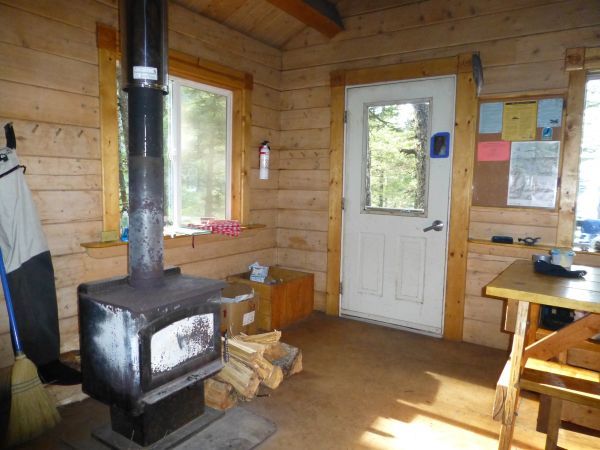 After a week I get picked up by Alison and return to Homer, content and full of lasting experiences. I guess I won't go for a solo kayak trip on the sea again, but happily so as a twosome. When travelling alone one is permanently preoccupied with preventing any possible risks which in turn limits possibilities. On the other hand, when travelling with a partner, the range of options widens remarkably. Tutka Bay is well worth visiting. Quite contrary to other regions in Alaska, this coast with its many sheltered bays and coves is well suited to spend a few days out of doors camping and kayaking. Another advantage is the easy access, especially when staying for a short time only.
In the following night, the ferry takes me to Kodiak. I spend a surprisingly quiet night in my sleeping bag. A football team from Soldotna keeps me company. The 16 to 18year olds enjoy the trip and are having a good time. Amazingly, at 11 p.m. it gets quiet. The morning welcomes us with rain, and therefore the arrival at Kodiak City is not very spectacular. I immediately get my rented Jeep, grab something to eat and head for Monashka Bay. According to information from Fish & Game, fishing for silvers should be good there. I fish from the mouth of the river all the way up to the first couple of pools  a short way from the bridge. There are some silvers in the river.  As soon as the tide has reached its peak and starts to ebb out, the salmon start jumping in the pools. According to my experience, this is the best time to catch salmon. I hook and land my first fish, change to the fly rod and am able to land a second one. What a start! There are cleaning tables at the Kodiak City harbour where I fillet the fish. I then bring  my catch to Island Foods for storing and freezing. The first night I stay on the Buskin campground. There's a break in the rain, and I can spend the evening outdoors.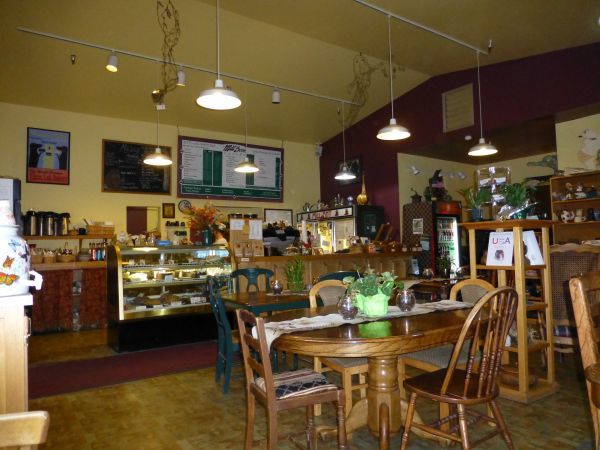 t rains again the next morning and I move to the pleasant Millbay Coffee for breakfast. Luckily I don't know yet that I'll spend more time there than I'd actually wish to. I fish again at Monashka Bay and start fishing the rivers with road access. While I leave the Buskin River to others, I land two silvers at the American River. I also have a look at the Olds and Russian rivers. The following days it rains almost constantly. The water levels of the Buskin River still allow for decent fishing, the beds of the waterways emptying into Kalsin Bay are filled to the brim with murky, brown water. I therefore decide to check the Pasagshak River, where I encounter – for Kodiak standards – a lot of fellow fisherman, but also lots of salmon. It's about an hour prior to high tide and a sizable number of silvers is entering the narrow, channel-like river mouth. The fish are frequently hunted by seals which chase the salmon and swim a couple of hundred yards upriver. The narrow river with its swift current is perfect for flipping, and almost all are successful in their attempts. The silvers of the Pasagshak are famous and indeed very big. I spot just a few smaller fish, most fish are big and strong fighters. I use ESL and also try, upon recommendation of a fellow fisherman, articulated flies where the hook is fastened to the fly with a nylon loop. The resulting articulation offers quite an advantage with such oversized flies. I like the system, the hook always holds firm. The Pasagshak isn't very scenic at its mouth but its the only place with a reliable run and fishable waters. About a week later it will run full and brown, too. The most unpleasant weather doesn't invite for tent camping at the Pasaghshak and that's why I drive back and forth between my B&B in Kodiak City and the river during these days. My rented Jeep turns out to be a real gas guzzler, I fuel up almost daily. What the engine won't need is greedily absorbed by the ventilation and the heating. And always the rain. I more or less quit camping and can stay at the friendly B&B whenever I wish to. The water is already flooding the road in the Kalsin Bay, and finally the Pasagshak River isn't an option any more. I now fish the upper Buskin where I still encounter decent conditions in the first part above the lake. There are only few fish in the river which asks for patience. Local fisherman congregate daily in the lower part of the Buskin, literally running after the fish in the shallower parts and snagging them with more or less heavy equipment. «Local» seems to be identical with «working in the fish factories». Many of these people originate from the Philippines and somehow don't quite fit here.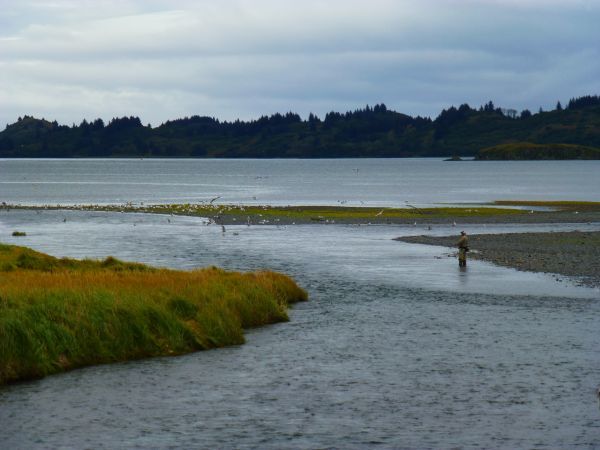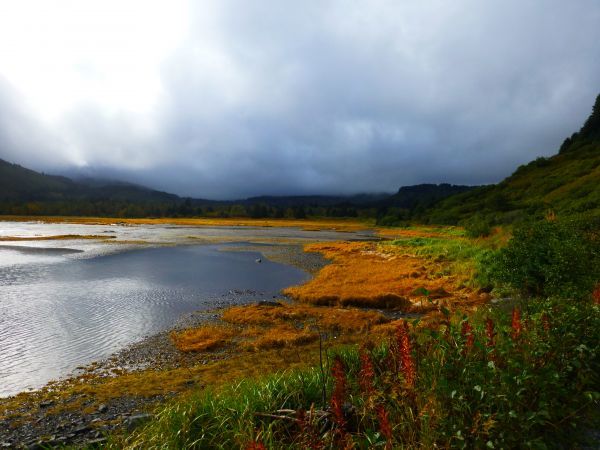 Gradually it becomes apparent that this trip won't go as planned. The weather forecast promises even more rain. The situation is already dramatical in the Susitna Valley and on the Kenai Peninsula. Seward is cut off from the outside world because of a collapsed bridge, Talkeetna has to be partly evacuated, etc. Gary Barnes of Soldotna (Gary is Mister Alaskaoutdoorjournal) keeps me up to date via his website. I e-mail him my fishing reports and he complements them with information to the water levels and road conditions on the mainland. We reach the same conclusion: Leave the coast! No simple endeavor in Alaska. All right then, I rebook my return flight to Anchorage and my rental car there. Easier said than done although not a problem usually. I don't want to give a detailed account here, but I'm quite teed off until I just get the transport of my salmon to the smokery settled. Countless phone calls with Alaska Airlines, the Kodiak Airport, the smokery ( ‹Yes, we offer an on-call service› …. ‹No, in peak season only, of course› …. ‹No, we haven't got anything›) but finally, after six days, my fish reach the smokery, still frozen, everything went well. I get away from Kodiak after three (really) attempts for take off and arrive safely in Anchorage. Not so my baggage. Because of the strong winds the freight had to be reduced. So I spend another night in Anchorage. In the afternoon of the following day my second piece of baggage finally makes it to Anchorage and I head for the Gulkana River. Quite a drive, but towards blue skies. When I get there the sun is already touching the horizon, barely enough time to catch and release some graylings. I go for an early start the next day. The morning skies in the east are spectacular, so are the fall colors around Paxson – picture book Alaska. I drive on the Denali Highway, which is partly closed in the west due to flooding. At the Tangle Lakes I prepare a hearty breakfast; it's chilly but dry. I then fish between the two lakes as well as at both inlets. I quickly change to bigger nymphs since almost each cast results in a bite. The little ones have difficulties swallowing the larger hooks and I only hook the bigger ones now. I hugely enjoy the fishery. I spot a few caribous every now and then and some moose. It's cold and dry, reason enough to go for a coffee break every once in a while. In fall, this place is unrivaled in beauty, the only drawback being the days getting shorter too quickly.
After some fine days I have to drive back to Anchorage. I've found myself a great B&B in a quiet neighbourhood, about ten minutes from downtown Anchorage. The family with their two kids is very busy and we only meet once for a short chat. I go shopping at REI and pack the salmon. On the day of my departure I experience fresh snow in Anchorage for the first time.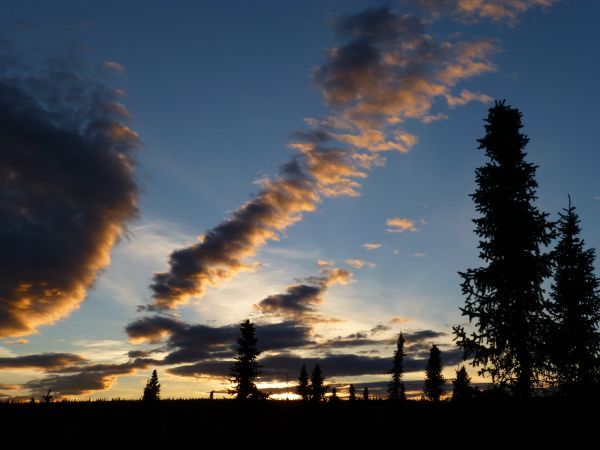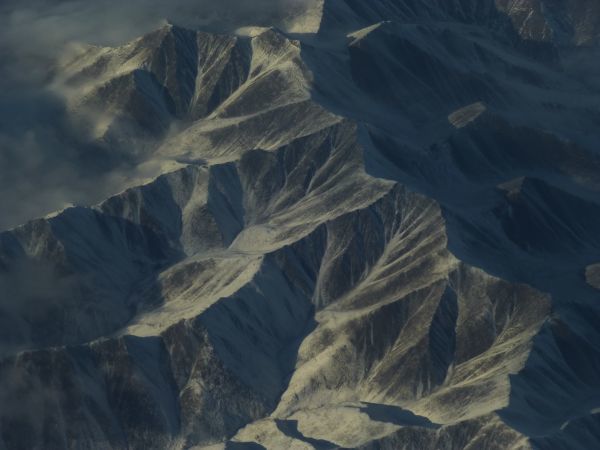 The flight home is nothing special. Only above the Brooks Range the cloud cover breaks up, the freshly snow-covered mountains are overwhelmingly beautiful. I spot the Noatak Valley for a short moment, at least, I think it's it, also the Alatna River. I reminisce for a while. The week with the sea kayak left me with lasting memories, it never ever got boring in the secluded bay. I spent some fine hours fishing Kodiak's rivers. But there were way too many hours I sat reading in the Millbay Coffee, warming up and conjuring alternatives. It sure was relaxing and is part of the whole thing, but it's not the reason at all why I fly around the globe.
Nevertheless, Alaska still beckons: the Brooks Range, the Southeast, and the lands west of Bristol Bay are still a blank spot on our travelling map….
Please note: the following sections are only in German and mostly deal with planning my trip.
Planung OK [Update 20.07.2012]
Ich bin bereit, die Planung ist abgeschlossen. Zur Einstimmung kannst du noch eine kleine Vorschau vom Noatak anschauen. Solche Flüsse und Landschaften ziehen uns immer wieder up North. Ich bin schon voller Erwartung, was Kodiak und die Tutka Bay dieses Jahr für Erlebnisse bereithalten.
Das sind einige Eckdaten der Reise:
Flug von Zürich – Frankfurt nach Anchorage
Weiterflug am gleichen Tag nach Homer
Organisieren und einkaufen in Homer – Überfahrt am nächsten Tag zur Tutka Bay
Mit dem Kajak 6 Tage unterwegs
Überfahrt nach Homer – mit der Fähre nach Kodiak
Roadside fishing auf Silberlachse und Dollies, Wanderungen
ev. 3-4 Tage zu Harry und Brigid Dodge auf Aleut Island – zu den Kodiak Bären
Anchorage (shopping und packen) – Home
Der Kodiak Marathon findet ohne mich statt, er wird 2012 leider eine Woche später durchgeführt. Die Buchungen sind alle durchgeführt, nun ist genügend Platz für die vielen Überraschungen und Situationen, die auf mich warten. Im Juni treffe ich mich mit dem Floater Urs. Er wird mir einige seiner ‹Secrets› mit den auf den Weg geben.
Fliegen binden, wieder mal ins Kajak sitzen und die übliche Bereitstellung der Ausrüstung stehen noch an.
Bei den folgenden Anbietern habe ich gebucht.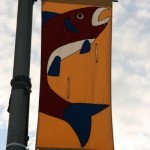 [half][/half]
[Start] Vorfreude
Im Herbst kann ich wieder einmal in Flüssen stehen, in denen grosse Silberlachse aufsteigen. Die Insel Kodiak ist dafür im Herbst eine Top-Region. Zu dieser Zeit ist es wieder beschaulich (Menschen), fast alle haben ihre Arbeit für den kommenden Winter getan (Bären), einzig in den küstennahen Flüssen ist hoffentlich wieder viel los (Lachse).
Für mich beginnt nun die spannende Zeit der Vorbereitung: Fliegen binden (beim letzten Mal waren vor allem eher kleinere Muster fängig), Flüge buchen, Ideen entwickeln, Kontakte wiederbeleben und knüpfen, lesen, Landkarten und Tide Charts besorgen, etc. Nun neigt man ja dazu, dass man alles wieder so machen will, was beim letzten Mal erfolgreich war. Das ist zwar nicht falsch, aber es kann dazu führen, dass man die Reise immer wieder vergleicht: "Beim letzten Mal war aber…" Nicht unbedingt meine Vorstellung.
Also muss etwas Neues her. Die Idee ist alt, aber nun soll es klappen. 1 Woche mit dem Kajak entlang der Küste paddeln! Die Abklärungen auf Kodiak ergaben, dass dies dort nicht optimal ist (Ausrüstung, Gebiet, Wetter, Wind). Nun, die Lösung ist gefunden: Die Tutka Bay in der Katchemak Bay in der Nähe von Seldovia. Von Homer aus ist das einfach zu erreichen, die Gegend ist vielversprechend. In Homer ist es zudem einfach, Kajak und Material zu mieten. Tierbeobachtungen im und am Meer und natürlich das ganze 'to be outdoor' werden mich sicher zur Genüge beschäftigen. Nach dem Kajaktrip kann ich zudem die Reise nach Kodiak mit der Fähre fortsetzen, was mich besonders freut. Ich werde also diesen Sommer wieder öfter in einem Kajak sitzen und auf (oder im?) Bodensee trainieren, so dass ich wieder sicher im Boot sitze, auch wenn es mal etwas unruhig wird. Ich bin gespannt, ob ich die Eskimorolle wieder hinkriege; ich hoffe ja sehr, dass ich sie nicht brauchen werde… Im Nordpazifik sind selbst ruhige Tage eine Herausforderung für den Paddler, die Gezeiten mit den dort üblichen grossen Wasserstandschwankungen bringen viel Bewegung und Strömungen in Küstennähe. Und wenn es ungemütlich wird, hat man auf dem Wasser mit einem Kajak nichts mehr verloren. Wir haben diesbezüglich unsere (glücklicherweise guten) Erfahrungen mit einem Motorboot während einer Woche in den Gewässern in SO-Alaska gemacht und dabei viel gelernt.